FORD OEM FACTORY CD CHANGERS
TOLL FREE 1-888-231-0395
When you purchased or lease your vehicle, you were given the option to purchase a CD CHANGERS.
the "factory" CD player, which is a very expensive option . Perhaps the price was a deterrent. Original
Equipment units often cost in excess of $700.00.
We might have good news for you.
We carry most of the O.E.M. CD CHANGERS that allows you to controll from your factory head unit with cd option
this units are designed to directly plug into your car's stereo system.and connect in the same fashion as the units offered by your car dealer. And please don't confuse our changer with the units available at your local retailer.
Those inferior sounding units are FM modulated, you listen to your CD's through your FM radio.
Our CD player installs easily and in minutes.
some vehicles are pre-wire This wire is usually located in your trunk or behind the factory radio our manual and website will tell you where to locate yours. The unit is mounted with simple brackets and screws, all you need is a screw driver and twenty minutes. The buttons on your radio control the player, no additionally unsightly control
units are needed.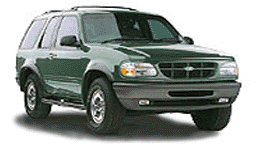 MODELS
PART NUMBER
NOTES
PRICE
CROWN VICTORIA 97 TO 2002
ESCAPE 2001 TO 2004
ECONOLINE 97 TO 2004
ESCORT 97 TO 2004
EXCURSION 2000 TO 2004
EXPEDITION 97 TO 2004
EXPLORER 95 TO 2004
F-SERIES PICK UP 95 TO 2004
FOCUS 2000 TO 2004
HN80 HEAVY TRUCK 95 TO 97
MUSTANG 2001 TO 2004
RANGER 95 TO 2004
SPORT TRAC 2000 TO 2004
TAURUS 96 TO 2004
THUNDERBIRD 2000 TO 2004
WINDSTAR 99 TO 2004













10 Disc CapacityPlays
(6 month WARRANTY)










$170.00


FOCUS 00-2003
CDC-FDC
COMPATIBLE WITH FACTORY RADIO ( 6 monts warranty)





$260.00

CROWN VICTORIA 95-1997
ECONOLINE 1997
EXPEDITION 95-1998
EXPLORER 95-1997
F-150 PICK UP 1997
RANGER 95-1997
CDC-FDF

COMPATIBLE WITH FACTORY RADIO AND
PREMIUM AUDIO SYSTEM
( 6 month warranty)

$260.00
CROWN VICTORIA, ECONOLINE, EXPLORER,
F-SERIES PICK UP, RANGER
98-2001
EXCURSION 00-2002
EXPEDITION 99-2002
SPORT TRAC 00-2002
ESCAPE 2002
WINDSTAR 99-2002
CDC-FDN
COMPATIBLE WITH FACTORY RADIO
(6 month warranty)

$260.00
CROWN VICTORIA 95-1997
EXPLORER 95-1997
TAURUS 96-2002
CDC-FDR
COMPATIBLE WITH FACTORY RADIO AND
JBL OR LUX AUDIO SYSTEM
( 6 month warranty)

$260.00
ESCORT 97-2003
CDC-FDW
COMPATIBLE WITH FACTORY RADIO ()
$260.00